One of the great things about having a clean slate is the freedom to build exactly what you want. After spending some time sitting in the empty upstairs bedroom that would become my hamshack, I decided that I wanted to build the desks and tables myself. I have very little skill or experience with woodworking, but I really like the idea of having something that fits my needs exactly how I imagine it. And since I only need to satisfy myself with the finished product, how can I go wrong?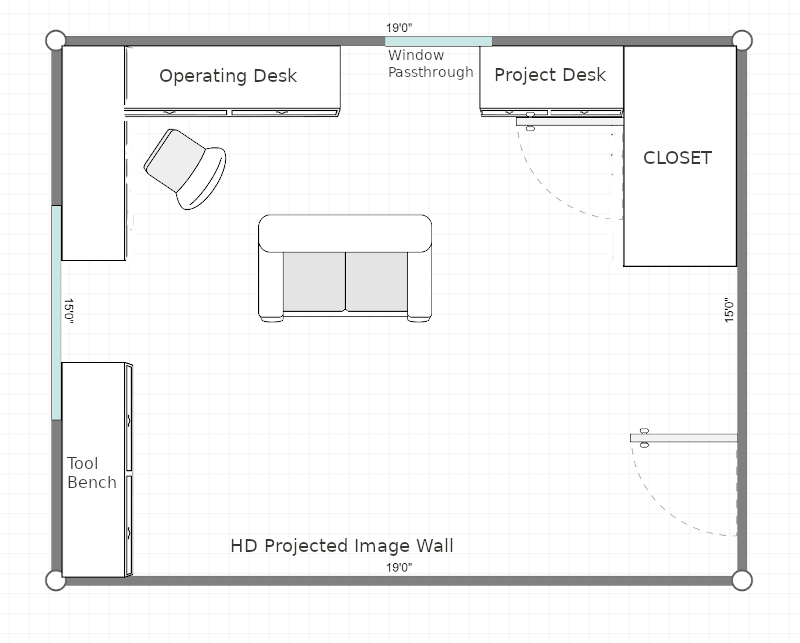 So, before I start building anything, I need to plan how I will use the space.
The room is 19 feet by 15 feet, for a generous 285 square feet of shack floor space, but a portion of that is taken up by the interior swinging entry door as well as a clothes closet which takes up almost 22 square feet by itself. With a 10′ ceiling, that makes a pretty fantastic storage space for my needs.
In the center of the room I will place a comfy reclining loveseat to entice my beautiful wife to come hang out with me. It will face a bare interior wall where I'll point an HD projector located on right side, upper deck of the operating desk. I'll have a 5.1 stereo system connected making this the best place in the house to watch a show.
The windows passthrough will probably be one of those MFJ multi-connector boards I've seen in the HRO catalog. I will place a half height two post 19″ rolling rack directly in front of the window to support my battery backup system, amplifiers, and antenna tuners. The rack can be rolled out giving easy access to the window when needed.
The tool bench will host the soldering station, peg board for small hand tools and parts, some test instruments, and a variety of battery chargers.
The project desk is where I will inventory, test, and stage my QRP gear and GO-Kits for things like SOTA and AUXCOMM. I really like having a clean workspace with ready access to my storage area for this sort of thing.
The operating desk will be an 8′ x 6′ two level desk. This should give me abundant room for PC's and the base station radios I plan to operate. It will also support the audio and video gear for the room.
I'm planning to run 240v and 120v from the panel on the ground level up to the shack. Its only a few feet away. I will run external conduit and penetrate the wall to terminate to jacks on the interior wall. I will also run a heavy ground wire from that point back down to the panel and to its existing ground system.
Anyway, that's the plan…