Around Thanksgiving I was able to pick up a used linear amplifier from a local seller, Bob, K4HA. He had purchased it from Raleigh area repeater legend Danny Hampton, K4ITL, so I am the third owner.
The amp is a full legal limit ETO 91b. ETO was the predecessor of Alpha which sold this amplifier under the same model number. It is capable of full legal limit with 100% duty cycle from 1.8MHz to 14.35MHz (160 through 20 meters). This includes everything in the range, so it is great for MARS, SHARES, and anything else not within the amateur bands, which is a big plus for me. There is a note in the user manual that says this amplifier can be modified to support use up to 29.7MHz (through 10 meters). I may have to explore this later.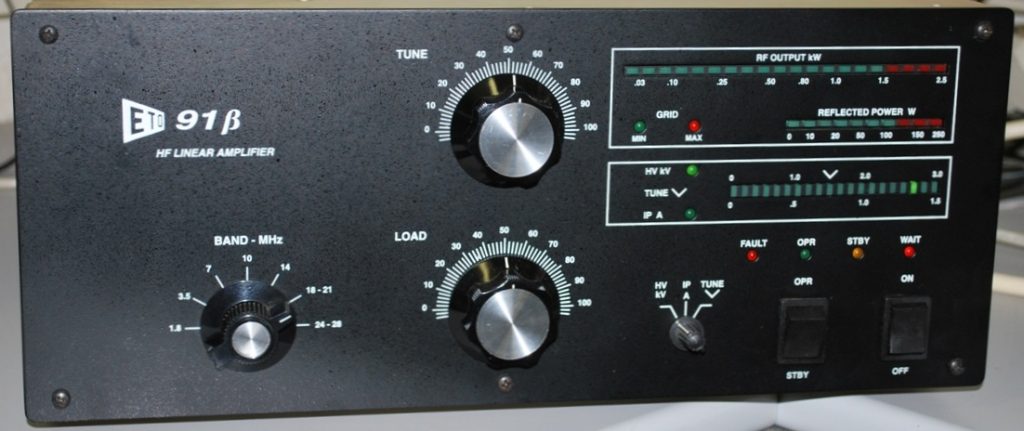 It took me several weeks, but I finally got a dedicated 240v circuit run to my shack off the mains panel. With power and RF cables in place I was ready to go, but somewhat unsure of myself. I had never used an amplifier like this before. Fortunately I found a number of useful videos from Al, K0CN walking through the warm up and tuning procedures with the Alpha 8410, a very similar model. I compared his steps to the description in the 91b user manual and this helped to give me confidence as I tuned up for my first contact at about 800W (no need to push things).