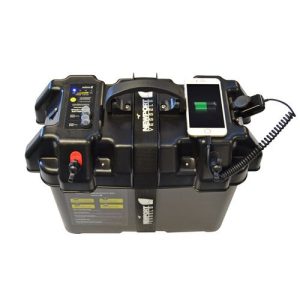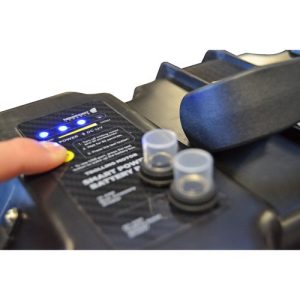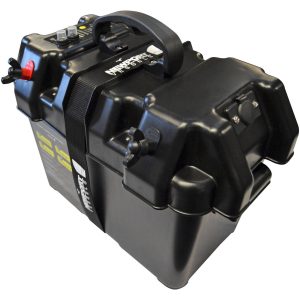 WHY
I love the power / weight ratios of the newer battery chemistries for portable operations, but let's face it, these new batteries aren't cheap. For that reason, I am still including a couple of AGM marine batteries in my current off grid power plan. They are big and heavy, so I don't want to tote them very far on foot, but there are plenty of scenarios in which these batteries are a great fit. If I need to operate from battery in my shack, from the back yard, from the county EOC one block from my house, or anywhere I can drive and set up, then this is a fine choice.
WHAT
I had been considering a box like this, but had planned to build it myself. Here are the key features I wanted in my box
Able to comfortably fit my 100Ah Group 27 AGM Deep Cycle battery
Integrated circuit breaker at least 10 Amp for direct DC power
At least 2 Built-in DC power points
External battery posts for ease of charging
Built-in charge indicator
I love a bargain, so when I found this Trolling Motor Battery Box on close out sale for a great price I snatched it up. It had every feature on my list at a price I couldn't beat if I built it myself from scratch. It hasn't disappointed.
MODS
My only planned modifications to the box are to add
A couple of Anderson Power Pole plugs in series with the DC power points
A fused and color coded Anderson Power Pole plug to take input from my solar charge controller